POW/MIA Special Event Station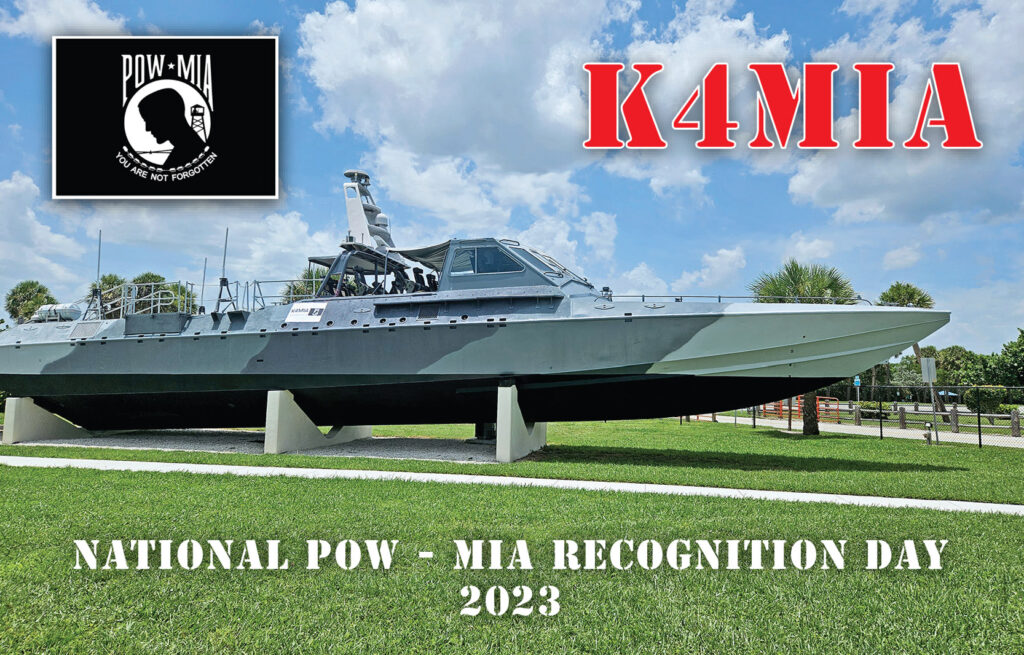 Below is from post by K4MIA on QRZ:

Observance of National POW MIA Recognition Day are held across this country on the third Friday in September. This year it will be on September 15. The Special Event station will be active September 7 thru September 17.

The point of POW/MIA Recognition Day is to ensure that America remembers and shows that it stands behind those who serve, and to make sure the Nation does everything it can to account for those who have never returned. The remains of almost 82,000 Americans are still missing, according to the Defense POW/MIA Accounting Agency DPPA.

This will be the 15th year the special event station K4MIA has been activated. There will be 21 stations using K4MIA or K4MIA/ across the country. The first year about 600 contacts were made, a large percentage from veterans or families of veterans. The event has grown with operators all over the country. Last year over 6800 contacts were made. K4MIA special event will operate through out Sept. Primary operational days will be Sept 7 through Sept 17. We will be operating SSB, CW, FT8. Throughout the month of Sept, K4MIA will also operate Satellites, EME, and other less used digital modes (PSK32, Hell Scriber, RTTY, SSTV). There will be sister stations K4MIA/1 K4MIA/2 K4MIA/3 K4MIA/4 K4MIA/5 K4MIA/6 K4MIA/7 K4MIA/8. This year we have added a few great operating locations. K4MIA will operate from the Navy Seal Museum in Fort Pierce FL on board the Mark V Special Ops 80 foot craft. K4MIA/4 will operate from Battleship Memorial Park in Mobile Ala on board the USS Alabama battleship and USS Drum submarine. K4MIA/6 will operate on board the USS Hornet aircraft carrier in Alameda California. Operation from the ships will be limited to a few days. Besides operating from our home QTHs we will operate from VA hospital and various parks. More information can be had K4MIA on QRZ. We are trying to increase the awareness of our POWs and MIAs. Because of the high volume of requests, you MUST SEND SASE to get a returned QSL.
One Of My Favorite Antennas To Use When I Go Out To POTA Or Do EMCOMM Work.
I have used Chameleon Antennas products for years and 100% stand by them. The antenna below, I personally own and use every time I do a POTA activation. I have used the CHA-TDL for 11 activation in 5 parks for over 300 contacts. I used this at K-1262 Kingdom Come State Park in April of 2022 and was setup in a less than ideal area, down in a deep narrow valley with big mountains all the way around. I was able to have an armchair conversation with David Lama HI8DL in the Dominican Republic that day. But don't take my word for it, spend a few minutes and watch K4OGO Walt's video from the beach in Virginia.
Upcoming Hamfest In The Area
RICHMOND KY HAMFEST
September 16, 2023
8:00 AM – 1:00 PM (Eastern time)
Indoor Climate Controlled Event:
Free outdoor tailgating space (with ticket purchase
W5YI-VEC exams begin at 1230 P.M.
Concessions by Union City Christian Church Youth Group
VENDORS: T.A.W.
Door prize donations by ARRL are Arrow Antennas, Bioenno Power, DX Engineering, Heil Ham Radio, and N3FJP.
Must be present to win Door and Main Prizes, Drawing at 12:00
$8.00 entry fee, Tables $5.00 each (contact ko******@gm***.com)
Extra chance tickets are available at the door.
At the MADISON COUNTY FAIRGROUNDS
3237 Old KY 52, Richmond, KY
(Turn East at traffic light 13. Only 6 easy miles from I-75, Exit 90. Talk-in 145.370, pl 192.
Paintsville Hamfest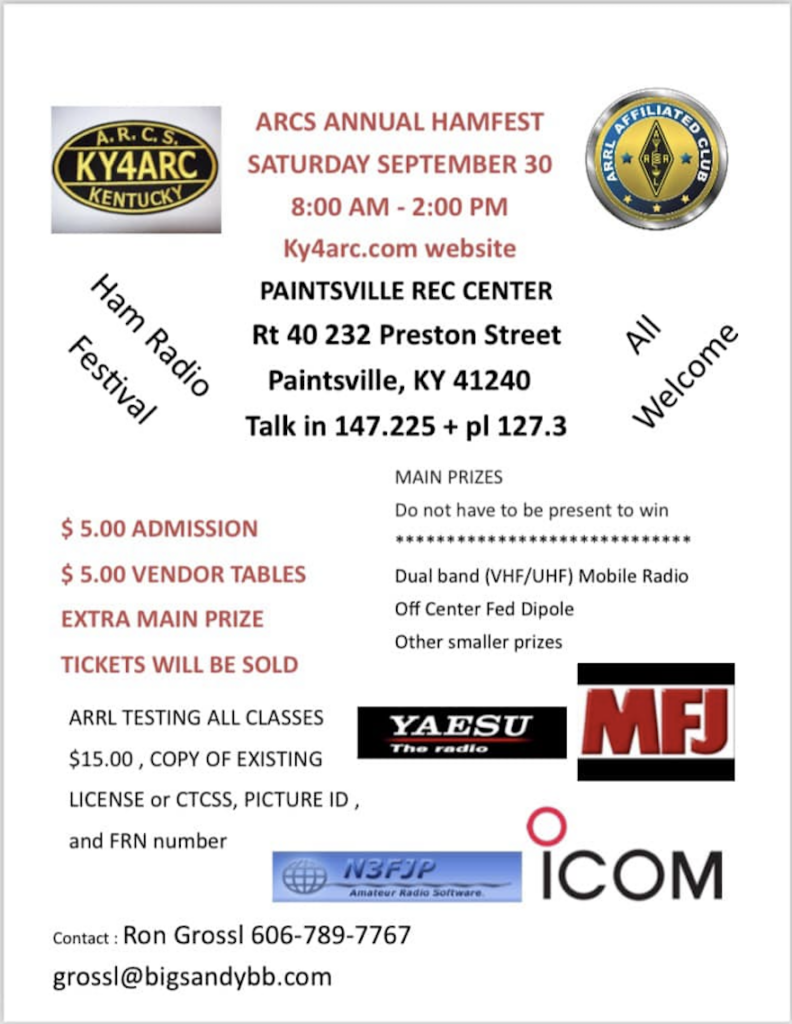 Hazard Hamfest
Start Date: 10/28/2023
Location: DAV # 64
165 Industry Drive
Hazard, KY 41701
Website: http:// face book Kentucky Mountains Amateur Radio Club
Sponsor: Kentucky Mountains Amateur Radio Club
Type: ARRL Hamfest
Talk-In: 146.670-103.5
Public Contact: Johnnie Brashear , KY4JLB
157 Old Hwy 7 Viper, KY 41774
Phone: 606-438-5557
Email: jl****@ya***.com